2022/23 Graduate & Internship recruitment - applications open
Our applications for mid-year Graduate & Intern roles are now open.
Our Member Firms offer so many opportunities for you to build a career pathway that suits you, whether you're looking for a role in Business Advisory, Audit or Tax, or simply to discover what it's like to work for an accounting and advisory firm.
And make sure to connect with us on social media; Facebook, LinkedIn and Instagram to keep up-to-date with our graduate programme public announcements & opportunities.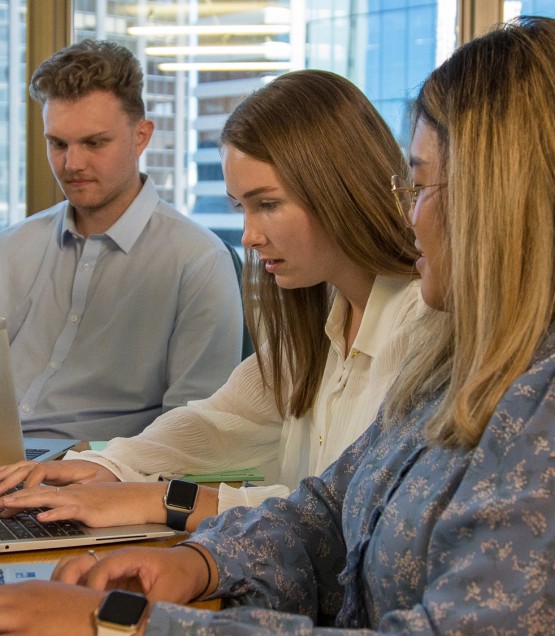 Why Choose Baker Tilly Staples Rodway?
We are one of the leading accounting networks in New Zealand, with Member Firms in Auckland, Waikato, Tauranga, Taranaki, Hawkes Bay, Wellington and Christchurch. If you choose to start your story with us, you'll be working for one of the most established and reputable networks in the New Zealand accounting and advisory market, so you know you're making a solid choice for your career.
Not only are we New Zealand owned and operated, we are also an independent member of Baker Tilly International. Our international network has members in 145 territories, so when travel is an option again, we can offer potential opportunities for secondments, as well as relationships which help open doors around the world.
And, while we're large, we're not impersonal. You'll work closely with our Director group and you'll be involved with clients from Day One. You don't have to believe us, why not check in with our Grad and Intern team to know more?
How to Apply - our Recruitment Process
* To apply for a role with our Auckland team, you will need to undertake some additional testing. Some companies call this psychometric testing. It's an online assessment which will take approximately an hour and helps us understand more about you.
What's included in our Graduate Programme?
Audit & Assurance
To be effective, assurance work demands a deep understanding of a client's business, its goals and the market in which it operates. Our client base is very diverse and we use technology to enable a "paperless" audit approach. Our sophisticated evaluation and analytical tools help us to identify the risks and opportunities that our clients face.
As an Audit & Assurance Graduate you will learn to:
Understand and identify audit risks, audit evidence, laws and regulations
Prepare audit workpapers and develop an understanding of financial statements and audit opinions
Develop an understanding of key accounting and auditing standards
Develop knowledge of key audit software and systems
Understand client's businesses and industries
Business Advisory
Business Advisory Services works with a broad range of New Zealand and overseas businesses including some of this country's most successful companies. As a graduate, you will have the ability to work closely with, and be mentored by, team members who have achieved some outstanding accomplishments throughout their own careers.
As a Business Advisory Graduate you will learn to:
Understand clients' businesses and industries
Understand the accounts function of a business
Develop a knowledge of professional standards, compliance and regulatory requirements, including professional ethics
Draft financial reports, including financial statements and tax returns
Develop knowledge of assessable income and deductible expenditure
Prepare electronic workpapers, GST, FBT, RWT and PAYE returns and reconciliations
Use key software i.e. Xero, APS, Microsoft Suite, in particular Excel
Tax
If you enjoy keeping up with the play and thinking creatively, the constantly changing world of tax may appeal to you. Most business owners appreciate the importance of controlling costs and welcome advice on ways to legitimately minimise their tax. Baker Tilly Staples Rodway are well known as tax specialists with an experienced team who are happy to assist new tax team members to develop their tax skills. Our reputation in tax can be traced back to the publication of the Staples Tax Guide, regarded as the 'tax bible', which was originally written by founder Charlie Staples and is now in its 80th edition.
As a Tax Graduate you will learn to:
Prepare GST, FBT, NRWT, RWT and income tax returns and reconciliations
Compile complete income tax returns, cross referenced to financial statements
Develop an understanding of tax journals of each tax entity
Develop knowledge of assessable income and deductible expenditure
Develop an understanding of provisional tax regime, tax pooling and UOMI
Understand clients businesses and the industries they operate in
Liaise with Inland Revenue
Undertake some research including reading legislation and tax commentary
Use tax software